FLASHSHOT WRITER GUIDELINES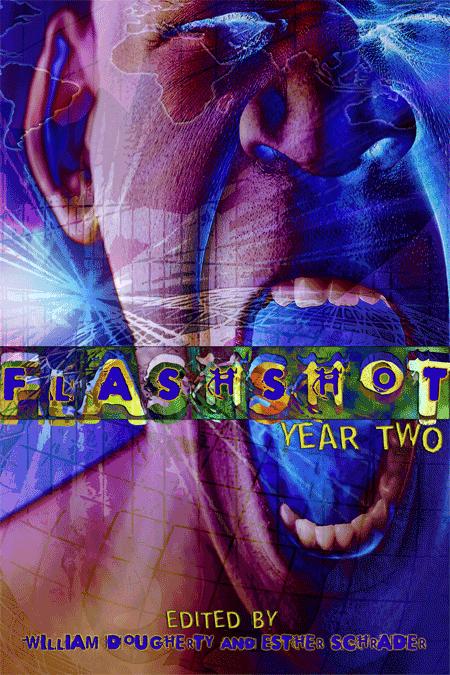 FLASHSHOTS ARE SELECTED BY OUR EDITOR EXTRAORDINAIRE, ESTHER SCHRADER
Become a Flashshooter!
New limit, effective November 15, 2005: up to 100 words.
Fiction: horror, mystery, fantasy, SF, and speculative genres with humor. Absolutely NO poetry. If you have something else in 100 words or less that you want me to see, try me! Reprints are fine, so long as you own the rights and tell us where they previously appeared. Submit up to three stories, and then wait until the last story is about to appear before sending up to three more.
What you get!
FLASHSHOT is not a paying market, but there are many good reasons to submit. You can use the brief bio that accompanies each story to promote whatever books or publications you wish. Exposure in FLASHSHOT can bring your work to the attention of anthologists and other editors looking for new talent. You may purchase an ad promoting your latest book to run below the FLASHSHOT for a certain number of days (check with GW Thomas for details). And, when the next batch of FLASHSHOT stories reaches the magic number of 365, your story will be included in a huge, 40,000-word e-book and paperback produced by The Rage Machine. Starting with FLASHSHOT 2, contributors will be paid a percentage of total royalties.
The Nitty Gritty!
Format: Your story must be attached as a separate document in either Word DOC or RTF. Single space, using a 12-point font. I prefer Times New Roman, but if you use any other readable 12-point font, I'll accept it and convert it. Use italics where needed. No headers or footers, please! Word count belongs in the cover e-mail, not on the document.
Starting in upper left corner:
TITLE (in caps, no underlining)
by (author's name)
[Skip a line]
Story: Either indent for each new paragraph OR skip a line, but not both!
[Skip a line]
BIO: (in third person, 2 or 3 brief sentences to publicize your other work, give your background, comment on the story, or whatever you wish)
Cover E-mail: Subject line should read "Submission" followed by the title of your story. You may attach up to three stories to a single e-mail, so long as they are separate documents and each contains the bio information at the bottom. Do not repeat the story or bio in the e-mail. The message need not be fancy, just a friendly greeting along with your word count.
Response Time: I'm usually pretty fast with an acceptance, rejection, or follow-up questions. Expect to hear from me within a few days.
Send to Esther Schrader at flashshoteditor@yahoo.com

THE PUBLICATION SCHEDULE
For those inclined to see when their work will appear, click here.
YEAR THREE:
736. XENODATE PART 1 by Terrie Leigh Relf
737. XENODATE PART 2 by Terrie Leigh Relf
738. XENODATE PART 3 by Terrie Leigh Relf
739. A PAINTER'S MELODY by A. Agee
740. A WILY WIN by Patricia Harrington
741. WMDs by Greg Beatty
742. THROUGH ANOTHER'S EYES by Gary West
743. BENEATH THE DOOR by Shane Jiraiya Cummings
744. THE TUNNELS by Francis W. Alexander
745. CHARLIE by Charles Richard Laing
746. CHILLIN' by Dean M. Watts
747. FUTURE LUNCH by Mike Whitney
748. THE TOURIST PROVES HIS POINT by Greg Beatty
749. THE PEOPLE IN THE TRUNK by Francis W. Alexander
750. TRANSFORMATIOn by Amanda M. Hayes
751. THE MIRROR SPEAKS by Shane Jiraiya Cummings
752. ABSENCE EXCUSE by Margaret B. Davidson
753. THE DOLL Michele Slee
754. PROOF OF THE GOOD LORD'S RETRIBUTION by Annie L. Walka
755. LUCKY DOG VOLUME 1 by Dean M. Watts
756. LUCKY DOG VOLUME 2 by Dean M. Watts
757. THE CAPTURE by Thomas Wiloch
758. THE ACCIDENT by Daniel Pyle
759. NO QUARTER by Franis W. Alexander
760. SMOLDERING EYES by Shane Jiraiya Cummings
761. TAKES ONE TO KNOW ONE by Mike Whitney
762. STALEMATE by Charles Richard Laing
763. FAULTY FOLKLORE by Margaret B. Davidson
764. WHY ETHAN KEEPS HIS CAR CLEAN NOW by Greg Beatty
765. A LOCKED-ROOM MYSTERY by Esther Schrader
766. ABUSE by Richard Lee Anderson
767. THE MISFORTUNES OF BEING A ZOMBIE by David L. Tamarin
768. AN ITCHY CONTEST by Amanda LaBerdia
769. THE HITCHIKER by Joanne Morcom
770. ART FOR THE SAKE OF GHOULS by Comateta M. Clifton
771. THE STRAY by Angel Leigh McCoy
772. BITTERSWEET REVENGE by Chris Cudbertson
773. SWEET DREAMS by Emily Salema
774. THE CAT IN THE CRADLE by Lois Jean Armstrong
775. THE LONGEST NIGHT OF THE YEAR by G. W. Thomas
776. UNDECIDED by Esther Schrader
777. THE REAL THING by Comateta M. Clifton
778. D. U. I. by Wesley Lambert
779. CHRISTMAS DINNER by L. R. Farley
780. BOXING DAY by G. W. Thomas
781. THE BRIDGE by Richard Lee Anderson
782. SOME THINGS MONEY CAN'T BUY by William Campbell
783. CIRCUIT by Yolanda Sfetsos
784. DEAR DIARY by Joanne Morcom
785. DEER CROSSING by G. W. Thomas
786. DOG CAFE by Pamela Shirkey
787. SARA by Jami Ewing
788. THE ORGAN FAIRY by Caroline Eikenberry
789. DRIVE TIME by Mike Whitney
790. ENOUGH IS ENOUGH by Gary West
791. MISER by Charles Richard Laing
792. GENESIS 1:32 by Anonymous
793. MINUTES by Richard Lee Anderson
794. JACK TOO NIMBLE by William J. Brazill
795. LOVE IN BRINE by Cat Rambo
796. LOCAL HOSPITALITY by Charles Mossop
797. DOUBLE WHAMMY by Joanne Morcom
798. CARING FOR THE WIDOW ALLEN by Comateta M. Clifton
799. AFTER HOURS by Christopher Winters
800. WHOSE TRICK by Susan Stephenson
801. ANECDOTE by Craig Sernotti
802. WED by Charles Richard Laing
803. AT THE OPHTHALMOLOGIST'S OFFICE by Terrie Leigh Relf
804. WATT'S MISSION by KR Mullin
805. BAD DREAM by Mike Whitney
806. UNDER THE COVERS by Yolanda Sfetsos
807. BAD VIBES by Margaret B. Davidson
808. UNBEFITTING by Kellie Hastings
809. BY REASON OF INSANITY by William J. Brazill
810. SOCK FEET by Terry Weide
811. TURNABOUT by James C. Wardlaw & Marcia A. Borell
812. CANNING by Greg Beatty
813. TRIED & CONVICTED by Gary West
814. UNSPEAKABLE THINGS by Terrie Leigh Relf
815. BARRIERS OF DARKNESS by Kellie Hastings
816. CHILLING OUT by Charles Mossop
817. CRIMESOLVERS by Guy Belleranti
818. TIDAL FLUX by Christopher Winters
819. THE TABLE by L. R. Farley
820. THE SECOND BITE by Charles Richard Laing
821. DIVIDED WE RAZE by William Campbell
822. CRIPPLE by Craig Sernotti
823. THE RULES by C. E. Valadez
824. SWEET LAUGHTER by Kellie Hastings
825. GLOBAL WARNING by Barry Ergang
826. SOLE OF ENLIGHTENMENT by Terry Weide
827. DAEVA by Christopher Winters
828. ESCAPE by Guy Belleranti
829. SLAVE OF PHASHEN by KR Mullin
830. STUPID CUPID by G. W. Thomas
831. REDEMPTION, A PRAYER by Gary West
832. DANCE WITH ME by Terrie Leigh Relf
833. MESS by Barry Hollander
834. LITTLE PEOPLE by Kellie Hastings
835. KNOCK, KNOCK by Joy Bischoff
836. JIMMY TELL by Greg Beatty
837. INSANITY by Kimberly Brown
838. INFERNAL PARADISE by Barry Ergang
839. IF YOU WERE THE LAST MAN... by James C. Wardlaw
840. HOT STUFF by Charles Mossop
841. IN DREAMS AWAKE by Wesle Lambert
842. QUILTY OF DEATH by KR Mullin
843. PHOBIAS by L. R. Farley
844. ALONE by G. W. Thomas
845. THE ORDER TAKER by Guy Belleranti
846. SUPPORT GROUP by Wesley Lambert
847. THE FINAL SIGN by Craig Sernotti
848. TWISTED MIRACLE by Kellie Hastings
849. A CAPPELA by William Campbell
850. WORD POWER by Michelle Mach
851. ACADEMIC DISTINCTION by E. N. Taylor
852. WOLVES by Charles Richard Laing
853. THE WINDY WINDOW byRegina Avalos
854. ANY OTHER NAME by Mike Whitney
855. WHY? by Christopher Gooch
856. BEAUTY SLEEP by Christine A. Verstraete
857. VOYAGE by Jason Earls
858. BETA SIGMA by Terri Lynn Coop
859. THROUGH GELID SPACE HE FLEW by Ellen Lindquist
860. CAN'T WIN FOR LOSING by Margaret B. Davidson
861. THE LUCK OF THE IRISH by G. W. Thomas
862. CASUALITIES OF WAR by Brian Jaime
863. THEORIES OF MICE AND ART by Catherine A. Mezensky
864. THE STUMP by Paul Rogalus
865. THE SEARCH by Michael A. Kechula
866. CURIOSITY KILLED THE CAT by Cometeta M. Clifton
867. CURSE YOU, PIONEER! by Greg Beatty
868. THE OLDEST PROFESSION by Joanne Morcom
869. EARTH GIRLS AREN'T EASY by Pamela A. Shirkey
870. THE MISSION STATEMENT by Terrie Leigh Relf
871. WABBIT SEASON! by G. W. Thomas
872. EXPONENTIAL RETURN by Ellen Lindquist
873. PASSING STONEHENGE by Steve Verge
874. THE BRAIN EATERS by Terri Lynn Coop
875. HEAD DOCTOR by Michael A. Kechula
876. TEAM PICTURE by Charles Richard Laing
877. HELL-O by Chris Ambrose
878. HIS PERFECT ALIBI by Cometeta M. Clifton
879. SQUIRREL DAY by Caroline Eikenberry
880. HOMECOMING by Joanne Morcom
881 SHE SPURNED HIM by Michelle Miller
882. IMMANUEL TRANMISSION by Steve Verge
883. FINDING THUMBELINA by Christine A. Verstaete
884. IN ORDER TO SAVE by Chris Ambrose
885. THE PSYCHIC by Brian Jaime
886. PUNCTURE by Jason Earls
887. IN THE PINK by Michelle Mach
888. LIKE FATHER... by Sean Eret
889. LUCKY by Christopher Gooch
890. MONKEY TRAP by Terry Weide
891. MORNING by Daniel Shields
892. NON-READERS BEWARE by Del Tinsley
893. MOW MOW MOW YOUR BOAT by James C. Wardlaw
894. NIRVANA by Michael A. Kechula
895. NATURAL CAUSES by Terri Lynn Coop
896. ALL SENSE GONE by E. N. Taylor
897. THERE'S A FLY IN MY CAR by Christopher Gooch
898. CHOCOLATE TRUFFLE by Brian Jaime
899. COST EFFECTIVE SOLUTION by Margaret B. Davidson
900 THE PIG by Paul Rogalus
901. THE DAY JOB by Christine A. Verstaete
902. THE BEARDED WASHING MACHINE HAUNTED THE CONEY ISLAND BOARD WALK
By Ellen Lindquist
903. STARLIGHT, STARBRIGHT by Chris Ambrose
904. SEDATION by Joanne Morcom
905. PEARLY TAILGATING by Steve Verge
906. OLD HABITS by Comateta M. Clifton
907. NOTHING'S FREE by Sean Eret
908. GHOSTS by G. W. Thomas
909. TICKALOCK by Esther Schrader
910. AUTO-NEUROTIC by Barry Ergang
911. AH, BUT IT'S THE THOUGHT THAT COUNTS by Greg Beatty
912. WHITE ROSES by Terri Lynn Coop
913. Gary's Pick: BORN TO SHOVEL by Elizabeth Dearborn
914. Esther's Pick: MOTHER'S DAY PRESENT by Barry Ergang
915. Runner Up: MAY 8TH by Charles Richard Laing
916. ALL IN A DAY'S WORK by Joanne Morcom
917. TRUCE by Brent Powers
918. BREATFAST TREAT by Margaret B. Davidson
919. PRO BONO by Bryon Quertermous
920. DEUS EX MACHINA by Terry Weide
921. ADDRESS BOOK by Esther Schrader
922. LOVE AND THE OLD MASTERS by Irene Smith
923. TROPHY WIFE by Terri Lynn Coop
924. DOCTORS WITHOUT BORDERS by Greg Beatty
925. BUNGLING IT by Margaret B. Davidson
926. NEAT STUFF TO DO by Brent Powers
927. MOANING LISA by Barry Ergang
928. LOOKING ON THE BRIGHT SIDE by Amanda M. Hayes
929. HOCUS POCUS by Joanne Morcom
930. LIFE NOT TAKEN by Terry Weide
931. IT'S JUST NOT KOSHER by Greg Beatty
932. TIME IS MONEY by Terri Lynn Coop
933. REALM by Brent Powers
934. RAGING ENDORPHINS by Margaret B. Davidson
935. LEFTY by Joanne Morcom
936. CHOPPERS by Terry Weide
937. NANO-HUNK by G. W. Thomas
938. A STRANGE FEELING by Raymond Grant
939. DIVINE INSPIRATION by Sean Eret
940. SLAUGHTERED BEAUTY by Amanda M. Hayes
941. THE AFTER-LIFE SALOON by Carol A. Cole
942. THE MONSTER DEFENDS HIS LOW BODY COUNT by Charles Richard Laing
943. MAD PROGENY by Sean Eret
944. RILEY'S REALIZATION by Guy Belleranti
945. FLUSH-OUT IN FLATBUSH by Barry Ergang
946. WAFFLES by Charles Richard Laing
947. UNSUSPECTING VICTIM by Guy Belleranti
948. THE JUMPER by Carol A. Cole
949. THE END OF A PERFECT DAY by William J. Brazill
950. HUNGER PANGS by Sandra Seamans
951. THE PEDDLER by Charles Richard Laing
952. THE STRANGER'S CANDY by Sean Eret
953. JUSTIFIABLE HOMICIDE by Guy Belleranti
954. PREVENTATIVE MEASURES by Amanda M. Hayes
955. ANTIDEATH by Elizabeth Dearborn
956. LAST DAY OF THE FISHING SEASON by Ben Langley
957. BIRTH DAY OF HORROR by the Guilty Parties
958. THE BATTLE OF CHARLIE'S FIELD by Scott Virtes
959. MAGIC PILLS by Desiree Goris
960. JUST ANOTHER COLLAR FOR OFFICER BARRY by Comateta M. Clifton
961. BILLY'S QUEST by Michael A. Kechula
962. THE MOTHER OF ALL DRAGONS by Irene Smith
963. HURT ME by Mary Schenten
964. CHIROMANCER by Esther Schrader
965. HONEY, ___ SHRUNK by Francis W. Alexander
966. COLORFUL LANGUAGE by Robert Lee Beers
967. THE IMPOSSIBLE TOME by Scott Virtes
968. FINGERWALKING by Clint Gaige
969. GREEN THUMBS FOR MOTHER by Comateta M. Clifton
970. COUNTDOWN by Fleur Bradley
971. GRAVITY PULLS by Bill West
972. DEATH BEFORE DISHONOR by Greg Beatty
973. NEWBORN by William Campbell
974. FROZEN FOOD by Elizabeth Dearborn
975. DESCARTES, HOBBES, AND THE MAKING OF A SERIAL KILLER by JJ Sargent
976. DOLPHINS ARE GENUINE by Michael A. Kechula
977. EVIDENCE by Francis W. Alexander
978. MONSTER FOR SALE by Kimberly Brown
979. E-MAIL OPPORTUNITY by Irv Pliskin
980. EVERYBODY'S A CRITIC by Barry Ergang
981. LOOKING FOR AN EXOTIC CAREER ... by Terrie Leigh Relf
982. WHACKETY WHACK by Scott Virtes
983. LOST IN NECROPOLIS by John Weagly
984. VOLCANO by Desiree Goris
985. THE MAN WHO ALWAYS IS by William Campbell
986. VEHICULAR HOMICIDE by Courts Mroch
987. THEY WERE DELICIOUS by Greg Beatty
988. MOTHER SHIP by Irene Smith
989. THE LAST VICTIM by Felix Pierce
990. MURDER AT TUDOR COURT by Ben Langley
991. THE TREASURE OF THE SIERRA PADRE by Barry Ergang
992. THE LAST JOURNEY by Mary Schenten
993. SKIN AND BONE by Elizabeth Dearborn
994. SO MANY TO CHOOSE FROM! by Terrie Leigh Relf
995. THE CAT'S MEOW by Raymond Grant
996. A SUCCESS STORY by Michael A. Kechula
997. SURVIVORS by JJ Sargent
998. AUTOMATION by Heather Wardell
999. Gift Certificate by Anna McDougall
1000. SHOTFLASH by G. W. Thomas
1001. WHO'S YOUR DADDY? by Terry Weide
1002. HOW TO GET RID OF A BARKING DOG by Pamela Karavolos
1003. BUTCH by Barry Hollander
1004. WHATCHA WANNA DO MARTY? by Esther Schrader
1005. CHERNOBYL'S RECEPTIONIST by Caroline Eikenberry
1006. THE WOODS ARE LOVELY by Joanne Morcom
1007. CITY OF GOLD by Shelley Lesher
1008. CONFRONTATIONAL ADMISSION by P. H. Madore
1009. THE SKY WATCHERS by Janet Paszkowski
1010. THERE GOES THE NEIGHBOURHOOD by Margaret B. Davidson
1011. THE MERCHANT OF VANISH by Barry Ergang
1012. END OF THE RAINBOW by Terry Weide
1013. FAIR TRADE by Lyryn Cate
1014. SUICIDE BY STATE by Terri Lynn Coop
1015. TRUTH IN ADVERTISING by Heather Wardell
1016. NO HARD FEELINGS by Joanne Morcom
1017. MISCALCULATION by Margaret B. Davidson
1018. THERE'S A MAN by Barry Hollander
1019. THE TREE by Shelley Lesher
1020. MAIRZY DOATS AND DOZY DOATS by Amanda M. Hayes
1021. FIXED by Jack Schrader
1022. SUFFERING ART by Caroline Eikenberry
1023. LABOR DAY by G. W. Thomas
1024. FORMALITIES by Anna McDougall
1025. STICKUP by Irv Pliskin
1026. SCARED SOBER by Pamela Karavolos
1027. HER LOVELY, APPLE-TASTING FINGERS by Greg Beatty
1028. RISE AND DINE by Guy Belleranti
1029. IF IGOR HAD GOTTEN IT RIGHT by Terry Weide
1030. RECONSTRUCTING HENRY by Felix Pierce
1031. THE PROPOSAL by Margaret B. Davidson
1032. IT'S IN THERE SOMEWHERE by Heather Wardell
1033. PICKLE JUICE by Hope Sheppard Glidden
1034. IT'S ONLY A GAME by E. N. Taylor
1035. HER DUTY by Anna McDougall
1036. LAW AND ORDER by Guy Belleranti
1037. NOMMOS, HERO OF THE SEA by Shelley Lesher
1038. LOYAL SONS by Amanda M. Hayes
1039. NO QUESTIONS by Barry Hollander
1040. TEMPTED by Joanne Morcom
1041. EXPIRATION DATE by Laura M. Hartman
1042. FORTUNES by Charles Richard Laing
1043. A FITTING HOMECOMING by Carol A. Cole
1044. WIND by Stacy Taylor
1045. AUTUMN LEAVES by Charles Mossop
1046. UNPAID BILLS by Perry McGee
1047. TIME TRAVELER by Raymond Grant
1048. BEV GETS IMPLANTS by Mike Whitney
1049. THERE BE DRAGONS HERE by Saurav Mohapatra
1050. DEADLY DESSERT by Laura M. Hartman
1051. THE JUMPER by Michael A. Kechula
1052. DEADLY KISSES by Jennifer Michaels
1053. THE WILL TO DIE by BJ Bourg
1054. THE ELECTRO-CUTIONER by Terri Lynn Coop
1055. THE VAMPIRE COMEDIAN by Charles Richard Laing
1056. THE RUGBY PRACTICE by Charles Mossop
1057. GATEWAYS by Michael Lohr
1058. THE COSTUME by Amanda Smith
1059. HARE AND TORTOISE REMATCH by Sean Eret
1060. SUNRISE by Carol A. Cole
1061. MALL RATS by Esther Schrader
1062. STAYING ABREAST by Raymond Grant
1063. PLASTIC CONTAINER by Perry McGee
1064. NUMBER 210 by BJ Bourg
1065. PRIORITIES by Amanda M. Hayes
1066. RETRIBUTION by Carol A. Cole
1067. POETIC JUSTICE by Tammy Cravit
1068. BILLS by Stacy Taylor
1069. DANCE OF SIVA by Sean Eret
1070. DEER by Laura M. Hartman
1071. THE GRAND SILENCE by Michael A. Kechula
1072. THE ENCOUNTER by Terri Lynn Coop
1073. THE EXECUTIONER by Charles Richard Laing
1074. HARRY'S PLAN by Charles Mossop
1075. SMOKE by Perry McGee
1076. SOLO FLIGHT by Raymond Grant
1077. BEFORE HIS TIME by Sean Eret
1078. WELCOME T'LAR'S TOWER OF TERROR by Terrie Leigh Relf
1079. PUMPKIN NIGHT by G. W. Thomas